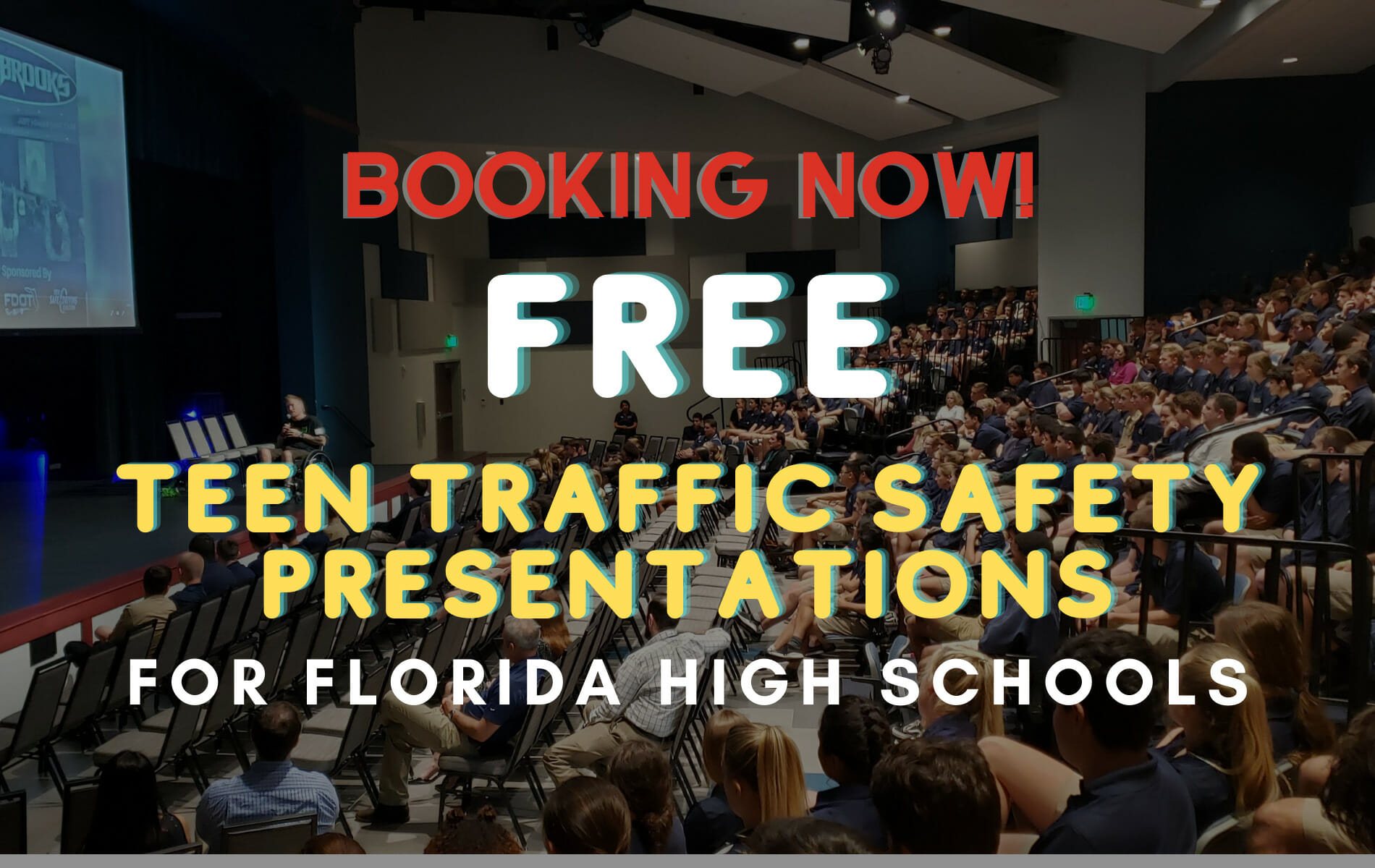 FREE Teen Traffic Safety Speakers
The Florida Department of Transportation's Florida Teen Safe Driving Coalition's Grant covers the cost to bring a nationally known teen traffic safety speaker to 60 high schools across Florida. Teen traffic safety speakers are a tremendously impactful way to leave a lasting positive safety message for teen drivers. We require a minimum audience attendance size of (at least) 400 people, safely gathered in an auditorium/gym setting.  Prior to booking, please check with your high school principal or administration to get permission to host the teen traffic safety speaker. Presentations are booked on a first come, first serve basis.
Meet Our Teen Traffic Safety Speakers
Hang Up & Drive – Jacy Good & Steve Johnson
May 18, 2008 was meant to be one of the best days of Jacy Good's life. Her college graduation day had gone smoothly, her family packed up her life into their station wagon, she said a temporary goodbye to her long-term boyfriend, Steve Johnson, and began the 90-minute drive home. Everything changed because of one distracted driver…
Just Wiggle Your Toes – Kevin Brooks
What started as a typical booze fueled Saturday night quickly turned tragic with a poor choice. Kevin Brooks and his childhood friend Brandon left a party, intoxicated and driving in excessive speeds. The result – a horrific crash that Kevin did not walk away from and Brendon did not survive.
Presentation Tour Areas & Dates
Hang Up & Drive – Jacy Good & Steve Johnson:
Just Wiggle Your Toes – Kevin Brooks:
March 6-10, 2023 – Broward/Palm Beach County
FULLY BOOKED
March 13-17, 2023 – Miami-Dade County
FULLY BOOKED 
March 27-31, 2023 – Tampa Area (Pasco/Pinellas/Hillsborough/Citrus/Hernando)
Booking NOW: https://calendly.com/flteensafedriver/tampa-area-kevin-brooks
Please note: We've identified the 2022-23 focus target areas based on the FDOT Highway Safety Matrix – Ranking of Florida Counties and crash data provided from the Florida Department of Highway Safety and Motor Vehicles. Special consideration was given to area locations that fell within the top 5 for teen traffic crashes/fatalities.