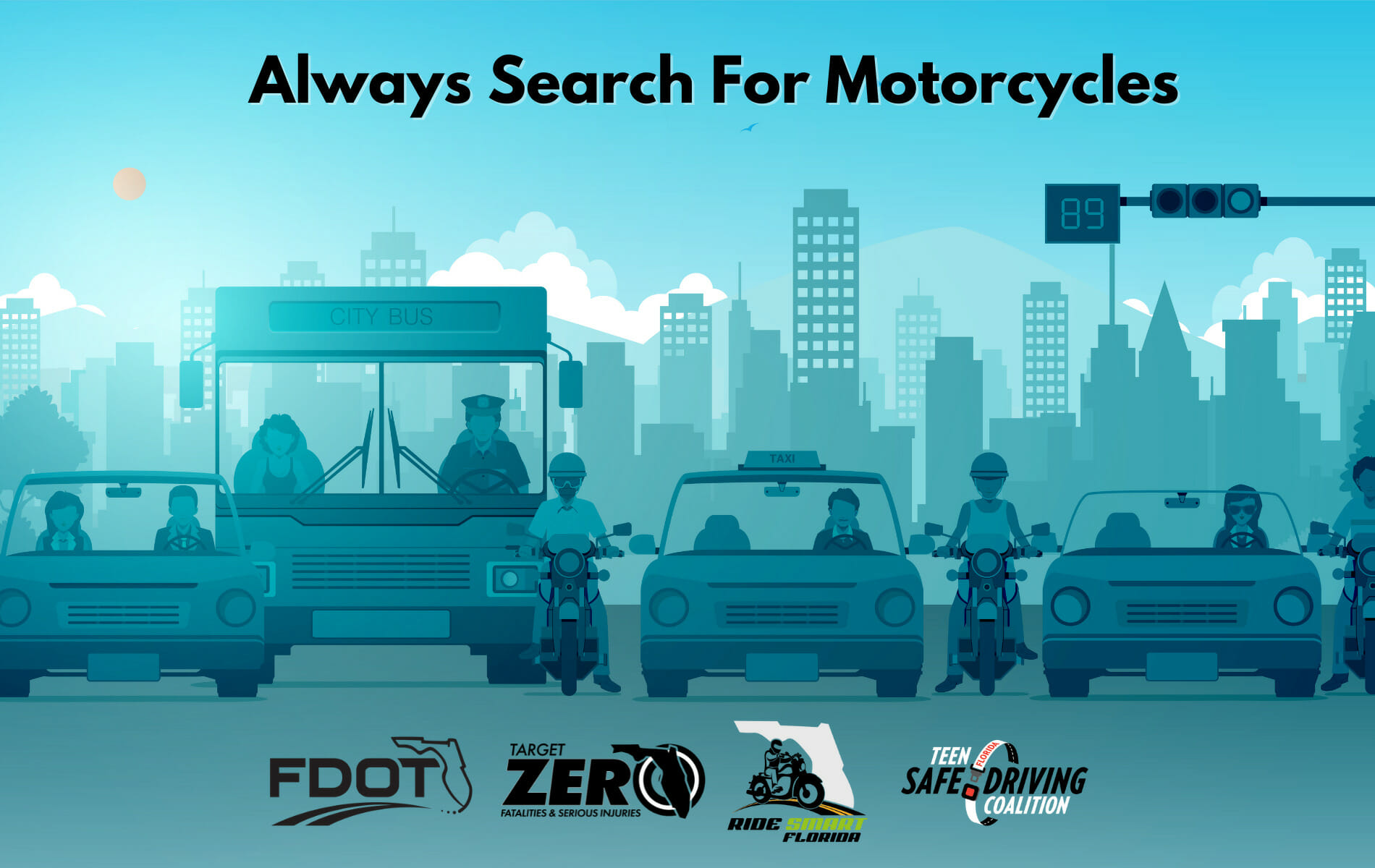 Always Search for Motorcyclists
Motorcyclists continue to be over-represented in traffic crashes, injuries, and fatalities as compared to passenger car operators. In 2020 there were 5,579 motorcyclists killed, which accounted for 14 percent of all traffic fatalities. This is an 11% increase from 2019 (NHTSA Traffic Safety Facts: Motorcycles 2020 Data). Preliminary data for 2021 shows a 9% increase in motorcyclists' fatalities from 2020 to 2021 (NHTSA Early Estimates of Motor Vehicle Traffic Fatalities 2021). That means that in a span of two years, motorcyclist fatalities have increased by 20 percent while motorcycles have accounted for only 3 percent of all registered vehicles in the United States for years (NHTSA Traffic Safety Facts: Motorcycles 2020 Data).
Education helps:
The National Agenda for Motorcycle Safety Implementation Guide 2006 stated that "Motorist education regarding motorcycles can begin early, through driver education classes, driver licensing manuals, and questions on driver licensing exams. It can be a part of remedial traffic safety courses required for problem drivers, especially those who have been involved in a crash with a motorcycle. It can be reinforced through regular communications campaigns."
Historically, traffic safety education materials (e.g., driver education, driver license testing), and outreach have included information on sharing the road with motorcyclists. However, due to limitations with instructional time and real estate (space) within textbooks and driver's manuals, content on motorcyclist safety has been limited. End-of-course driver education exams and driver license knowledge tests evaluate many aspects of driving safely and the number of questions that may be asked about motorcyclists may also be limited. A gap analysis was conducted with the review of multiple driver education curricula and driver licensing manuals. The analysis showed that the materials were insufficient, inadequate, intermixed with other content, and intended more for motorcyclists. Additionally, challenges with identifying, navigating, and understanding the foundational resources for motorcycle safety, have led to gaps and a lack of consistent understanding of how to identify challenges overall, understand trends, and subsequently implement targeted and sustainable action.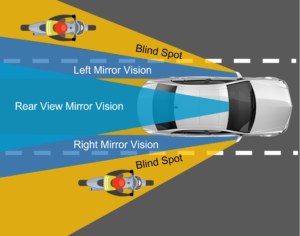 Highway Safety Services, LLC, with funding from the National Highway Traffic Safety Administration (NHTSA) developed motorcyclist safety education resources and graphics to enhance driver education and driver license testing materials and fact sheets that can be universally incorporated as a foundational motorcyclist safety outreach document, to raise the overall level of awareness and understanding of motorcyclist safety and operation.
Resources developed on motorcyclist awareness include:
2.    Driver license manual language
4.    Driver license and driver education knowledge test questions
5.    Fact sheets for teens and general drivers
These materials are available free of charge by downloading through Box (file sharing system).
If you have any questions please contact Christie Falgione at clewis@highwaysafetyservices.com or 724-349-SAFE.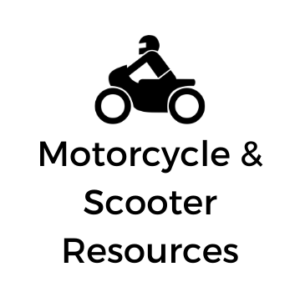 Visit the Resource Center
Download and/or request free printed posters on motorcycle and scooter safety. We also have social media images you can use to help spread awareness on the importance of motorcycle safety.