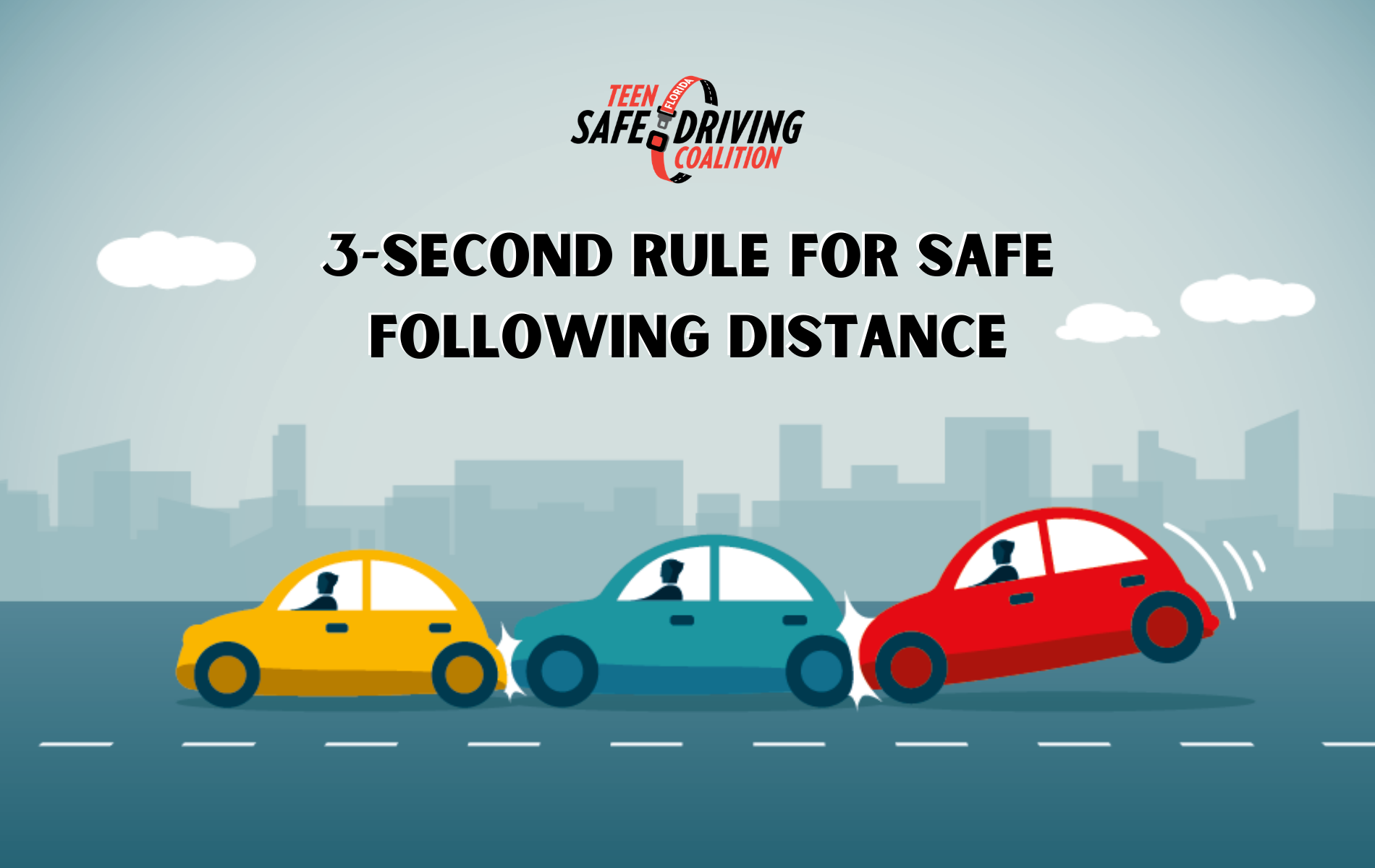 3-Second Rule for Safe Following Distance
Rear-end collisions are the most common type of crashes between vehicles.1 They occur when drivers do not have enough time to perceive and react safely to slowing or stopped traffic. Increasing your following distance can help give you time to react when someone brakes in front of you.
The Three-Second Rule
Increasing the distance between you and the car ahead can help give you the time you need to recognize a hazard and respond safely. The National Safety Council recommends a minimum three-second following distance.2
Determining the three-second gap is relatively easy. When following a vehicle, pick an overhead road sign, a tree or other roadside marker. Note when the vehicle ahead passes that marker, then see how many seconds it takes (count 1-1,000; 2-1,000; 3-1,000) for you to pass the same spot. If it is not at least three seconds, leave more space and increase your following distance.
Think of following distance in terms of time, not space. With a standard of 2.5 seconds, highway engineers use time, rather than distance, to represent how long it takes a driver to perceive and react to hazards. The National Safety Council also uses this standard (plus a little extra for safety) when recommending the three-second rule for following distance.2
Sometimes Three Seconds Is Not Enough
The three-second rule is recommended for passenger vehicles during ideal road and weather conditions. Slow down and increase your following distance even more during adverse weather conditions or when visibility is reduced. Also increase your following distance if you are driving a larger vehicle or towing a trailer.
Distractions, such as texting, reaching for a drink or glancing at a navigation device, also play a role in rear-end collisions. Even if you use the three-second rule, you may not have time to react to a hazard if you are distracted. It is another reason why you should avoid distractions while driving.3
---
Sources:
1 Traffic Safety Facts 2011, A Compilation of Motor Vehicle Crash Data from the Fatality Analysis Reporting System and the General Estimates System. http://www-nrd.nhtsa.dot.gov/Pubs/811754AR.pdf
2 Reference Material for DDC Instructors, 5th Edition. National Safety Council, 2005.
3 https://www.youtube.com/watch?v=bu27tdKJc5U
---
Original Post: https://www.travelers.com/resources/auto/travel/3-second-rule-for-safe-following-distance