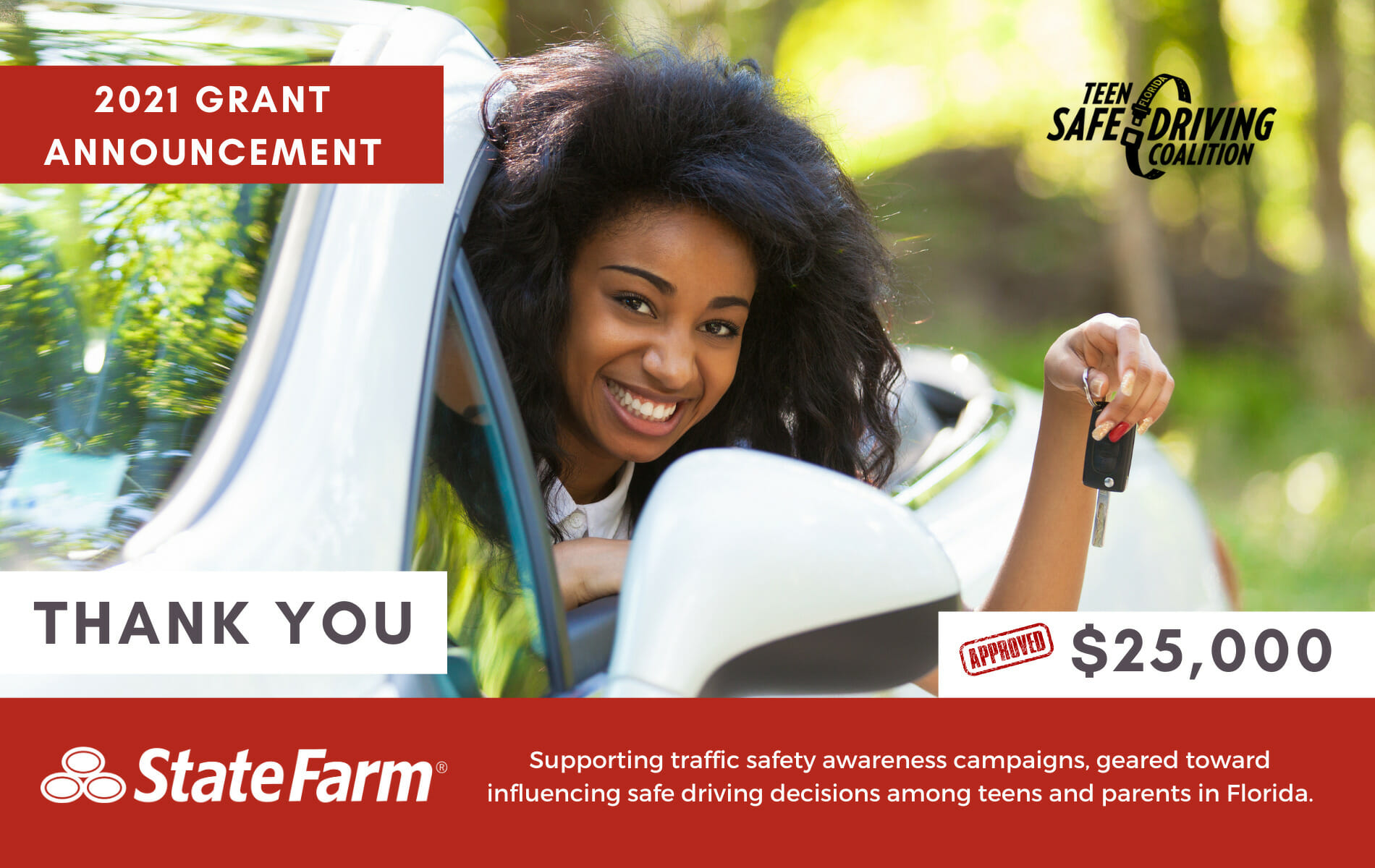 Grant Awarded for Teen Traffic Safety Awareness in Florida
State Farm awards the Florida Teen Safe Driving Coalition a $25,000 grant to promote traffic safety education among teens in Florida.
Tallahassee, FL – February 9, 2021 – State Farm recognizes the importance of teen driver safety education and is committed to driving down fatalities by supporting teen traffic safety. This week, State Farm announced its support of a Florida based teen traffic safety group, the Florida Teen Safe Driving Coalition. The safety grant, which was awarded in the amount of $25,000, will go toward funding traffic safety awareness campaigns, geared toward influencing positive driving decisions among teens and parents in Florida.
Car crashes are the leading cause of death for teens, yet these crashes are preventable. According to the National Highway Traffic Safety Association (NHTSA), novice teen drivers are twice as likely as adult drivers to be involved in a fatal car crash. This is primarily due to lack of experience and hesitance to stand up for themselves when feeling unsafe in a car.
In 2020, State Farm provided funding to support the continuation of the Ground Your Parents Safe Driving Campaign, an effort to raise awareness among parents of the important duty they have to model safe driving behavior for their teens. According to NHTSA, parents are the number one role-model and influencer when it comes to teen safe driving habits. The goal of the campaign is to get teens talking to their parents about "practicing what they preach" when it comes to driving safe. The supporting 2020 grant aided to create a micro-website designed to offer hands-on resources for teens to influence safe driving habits among their parents.
Portions of the 2021 grant will go toward supporting student-led teen driver safety projects in Florida high schools. Teens will have the opportunity to participate in statewide contests and win monetary prizes to support safe driving initiatives at their school.
About the Florida Teen Safe Driving Coalition & Florida Students Against Destructive Decisions
The Florida Teen Safe Driving Coalition (FTSDC) supports the engagement, education, and mobilization of members in the community to work collectively on developing and improving teen safe driving programs, practices, and activities and thereby save lives in Florida. The FTSDC pursues the recommendations of assessments done by the National Highway Traffic Safety Administration, as well as the objectives established by the Florida Strategic Highway Safety Plan. FL SADD is dedicated to educating students, parents, and others in the community concerning the problems of underage drinking, impaired driving, seatbelt usage, driver training, speeding, and red light running. The office, which is funded through a grant by the Florida Department of Transportation, provides statewide coordination and assistance to Florida's SADD chapters and works in cooperation with many state agencies, local school districts, law enforcement offices, and other state and community-based organizations.
About State Farm®:
The mission of State Farm is to help people manage the risks of everyday life, recover from the unexpected, and realize their dreams. State Farm and its affiliates are the largest providers of auto and home insurance in the United States. Its 19,200 agents and 59,000 employees serve approximately 84 million policies and accounts – over 81 million auto, fire, life, health and commercial policies and over 2 million bank and investment planning services accounts. Commercial auto insurance, along with coverage for renters, business owners, boats and motorcycles, is available. State Farm Mutual Automobile Insurance Company is the parent of the State Farm family of companies. State Farm is ranked No. 36 on the 2020 Fortune 500 list of largest companies. For more information, please visit http://www.statefarm.com.
# # #